Mindfulness
Let our mindfulness experts deliver a taster session at your wellbeing event or book in an on site course to really see the benefits.
Mindfulness practice involves meditation techniques and deliberately paying attention to the present moment, without judgement – something which sounds easy, but not many of us are naturally inclined to do!
It is used by individuals to, amongst other things, help regulate and manage stress. With regular practice, some of the potential benefits of mindfulness include improved concentration, focus and energy levels, increased resilience and self-esteem, greater interpersonal and communication skills, and more positive engagement/job satisfaction.
In a typical one hour taster workshop session, participants would be introduced to:
What mindfulness is and why it is used

Some of the evidence behind the use of mindfulness (with a particular focus on the workplace)

Why mindfulness is needed and the benefits it can bring

Engaging short taster practices so participants can experience the practices first-hand

Tips on incorporating mindfulness into everyday life, and information on where to find out more
We have partnered with a number of qualified, experienced mindfulness experts who share our belief that wellbeing should be interactive, inclusive and fun!
'I'm a part-time city solicitor and part-time mindfulness teacher.  I love introducing people to mindfulness and providing taster sessions that are warm, friendly, interactive and fun. I aim to give people some background on mindfulness, bust some of the myths and misconceptions that there can be around it, and importantly give people the opportunity to give it a go and see if it is something they want to explore further to help with managing their well-being. I also include short exercises for people to take away and start practicing themselves.'     Ruth – Being Good Mindfulness Expert  
Ruth trained with Bangor university Centre for Mindfulness Research & Practice, and follows the Mindfulness Good Practice Guidelines.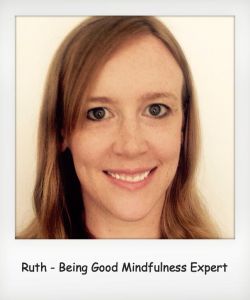 "We've used Being Good multiple times for their great smoothie design and bike arcade sessions. We also use Being Good's mindfulness experts who always help our candidates to relax and perform to the best of their ability. " Danielle – Danone
Mindfulness workshops, classes and courses for your event or company
Being Good challenge our experts to bring a fresh perspective to all of our sessions so even an experienced mindfulness practitioner will find new insights and beginners will receive a fantastic introduction.
Your event or organisation can book a one off taster session, a number of taster sessions to cater for a large team split into groups or ideally a course of progressive sessions with our experts where delegates can actually start to experience the benefits of the discipline. A six week course is ideal, but some may find significant progress in a 4 week course. As always it comes down to time and budget but we will always ensure you receive the best value possible.