Self Defence
Build confidence, mental and physical strength. Increase safety awareness and train to perform under pressure! Workout with a purpose!
This is not an area that springs to mind when most people think of wellbeing but it is an area that deserves serious consideration, not just for the obvious benefit of being able to defend yourself in an unwanted situation but also the less obvious benefits that the teachings around self defence and Krav Maga provide. Confidence, mental strength, resilience and agility as well as physical fitness can all improve greatly with these sessions. Krav Maga is the basis for these sessions and is a self defence system incorporating many skills developed to combat real world situations.
Safety awareness sessions can teach groups best practise for preventing unwanted situations before they occur. All of the below elements can be included in our taster or other sessions, or individual elements can be used as the focus:
Self-Defence and Krav Maga
Safety Awareness
Stress Management
Mental Training

Physical Training

Motivational Training
We have partnered with a number of qualified, experienced self defence experts who share our belief that wellbeing should be interactive, inclusive and fun!
'I am a firm believer that you're always learning and every part of knowledge is useful – train the mind and the body follows. I'm a confident, outgoing, friendly person who strives to help people push past boundaries and reach their potential.
I've found the scope of Krav Maga reaches further afield than just self-defence, to building confidence, stress management and developing positive effective mindsets. These elements are just as important and I continue to develop this further in an education/mentoring capacity.'     Chi – Being Good Self Defence & Safety Awareness Expert  
Chi is a qualified civilian Krav Maga instructor working with teens championship athletes, olympic hopefuls, women's groups, police, support officers, healthcare professionals and has clients of all ages and abilities. He is fully insured and teaches classes of up to 40 people.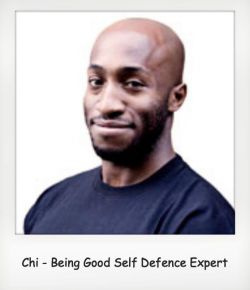 Self Defence/Safety Awareness/Krav Maga workshops, classes and courses for your event
Being Good challenge our experts to bring a fresh perspective to all of our sessions so even those with experience in self defence will find new insights and beginners will receive a fantastic introduction.
Your event or organisation can book a one off taster session, a number of taster sessions to cater for a large team or even a course of progressive sessions with our experts which can help develop skills further for a more in depth understanding.